Plastic Film Compacting Granulating Production Line

OD TECH Design
1. Applied for
lPlastic PP PE BOPP LDPE HDPE Film etc
lLeftover material of the plastic film producing
lSimultaneous recycling of production waste in plastic film production
2.The production line is made up of
| | | |
| --- | --- | --- |
| No | Machine Name | Quatity(set) |
| 1 | Belt conveyor | 1 |
| 2 | Film compactor/Agglomerator | 1 |
| 3 | Single Screw Extruder (Single or Double step ) | 1 |
| 4 | Vacuum degassing system | 1 |
| 5 | Hydraulic screen changer filteration system | 1 |
| 6 | Water-ring pelletizing system | 1 |
| 7 | Dewatering machine | 1 |
| 8 | Vibrating sieve | 1 |
| 9 | Air conveying system | 1 |
| 10 | Control system | 1 |
3.Machine model
Model

Screw diameter
First step (mm)

Screw diameter
Second step (mm)

Main motorkw

Second motorkw

Output
Kg/h

85/100

85

100

45/55

22

200

100/120

100

120

75/90

37

350

130/140

130

140

132

45

600

160/180

160

180

185

55

850

180/200

180

200

220-335

75

1200
3.Working processing
1.Belt conveyor will convey the material to Film Compactor/ Agglomerator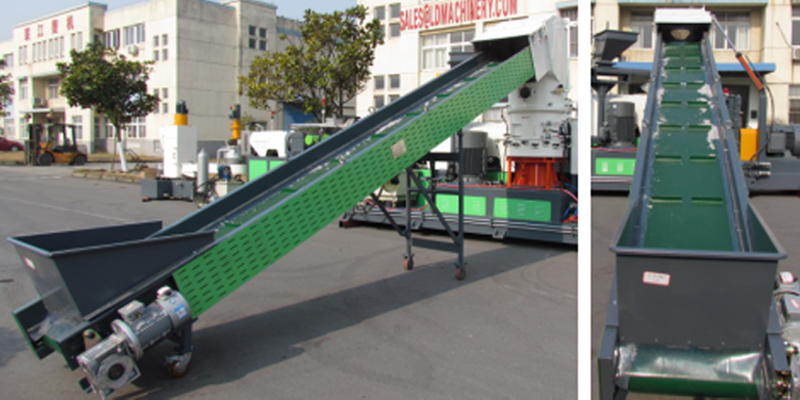 2.Film compactor/Agglomerator will cut film and compact the film by friction
3.The compacted film will be fed to Extruder by special design drop guide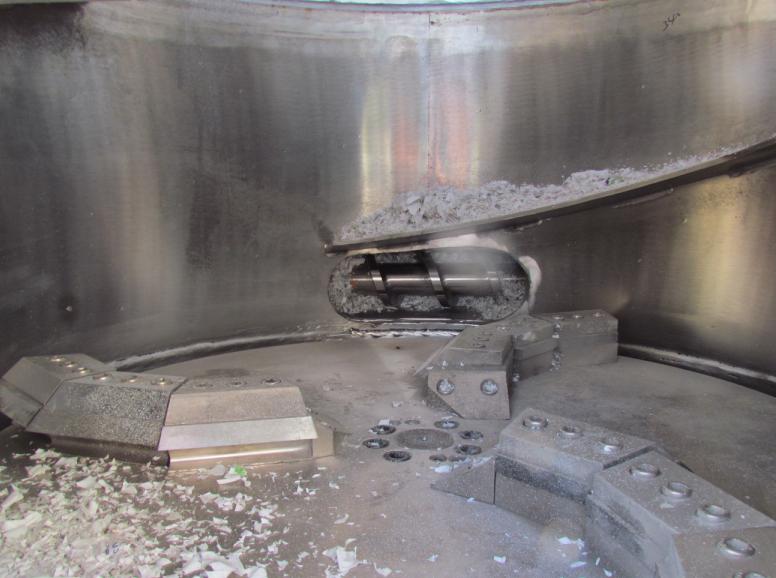 4.The screw extruder will have the processing of Plastified while the material fed to the extruder.
And the vacuum degassing system will remove the water moisture of the material and clearance of low molecular to improve the quality of finished pellets.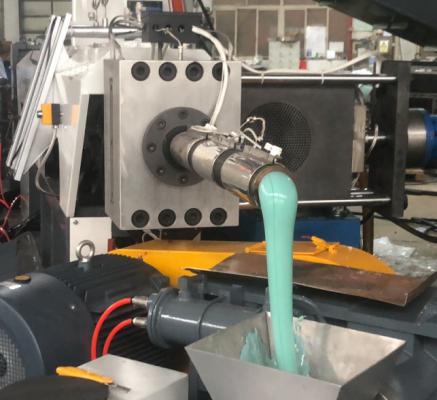 5.Hydraulic cyclinder Double working position non-stop Screen Changer.
The impurities will be filtered by filteration screen on the Screen changer.
6.Watering cutting model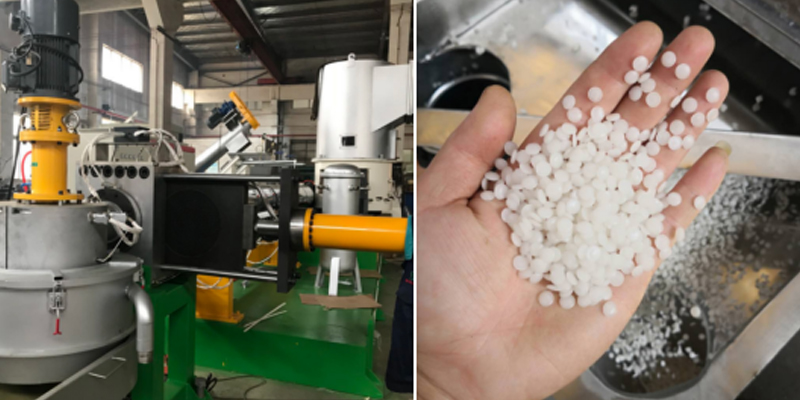 Pull strips pelletizing model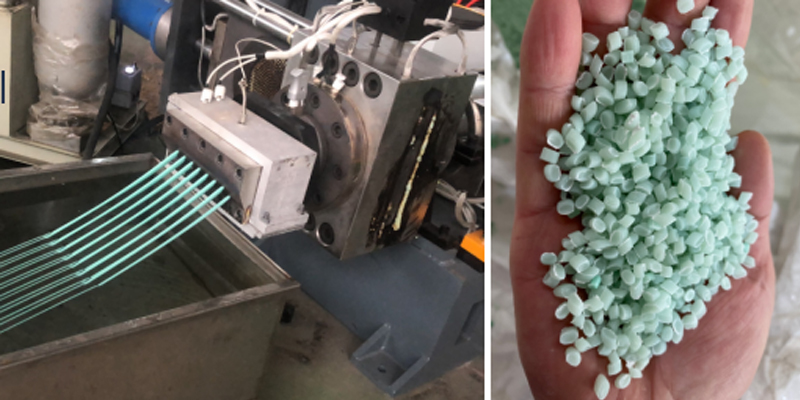 7.Dewatering machine + Air conveying system+ Storage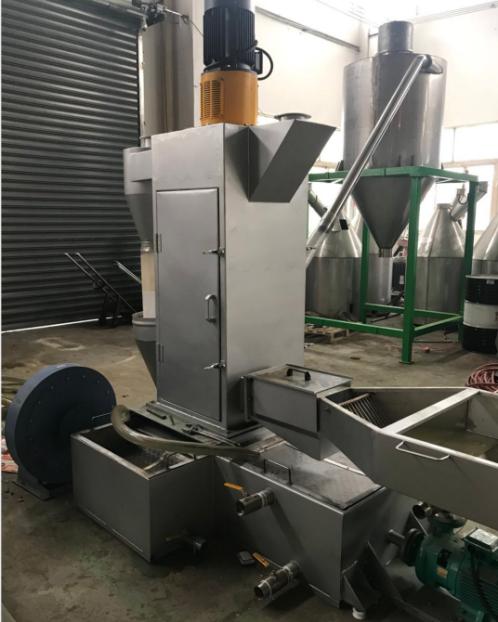 Controlling System
lFeeding: Belt conveyor runs or not depends on the electric Currency of Film Compactor/Agglomerator.
The Belt conveyor will stop conveying while the electric current of Film compactor/ agglomerator is over the set value.
lTemperatur of Film Compactor/Agglomerator: The temperature generated by the friction of the material must ensure that the material is heated,
curled, contracted, and enters the extruder smoothly, and has a certain bearing on the rotation speed of the compactor motor.
lScrew extruder speed can be adjustable ( According to the cituation of fed material)
lPelletizing speed can be adjustable (According to the material output and size)
Advantage of he machine line
Advantages

1

Automatic design Siemens PLC control system

2

The Film compaction/ agglomerator is designed with observation window to facilitate customers to open,clean and change the blades

3

The speed of the cutting motor of the compaction cylinder is adjustable to realize the closed-loop control of the speed of the extruder

4

The specially designed valve structure on the entrance of screw extruder, which effectively controls the moisture of the material entering the extruder, ensuring the stability of the discharge and the quality of the raw material

5

Realize the continuous production of film transportation, crushing, compaction, extrusion, pelletizing, dehydration, collection and other processes, which saves electricity, improves product quality, and reduces labor intensity of workers;

6

The simultaneous recycling of leftovers and production waste saves customers storage space;