PLA Dry and Crystallization by Infrared crystal dryer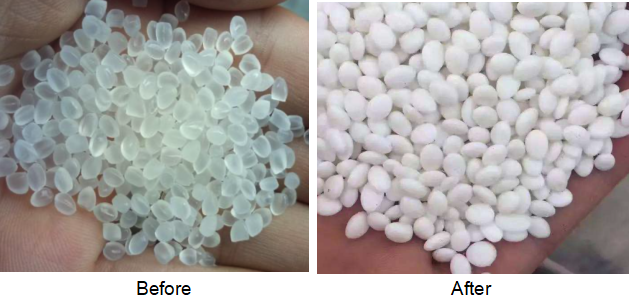 PLA is kind of very sensitive temperature material. PLA is a hygroscopic thermoplastic that easily absorbs water from the atmosphere.
Even small amounts of moisture will hydrolyze PLA in the melt phase, reducing molecular weight and causing loss of properties.
This can cause sheet brittleness, internal holes, sagging of the web at the die exit, or other process and quality problems.
With PLA, proper drying is not optional. It is absolutely essential. Resin manufacturers recommend that PLA be dried less than 250 ppm before processing.
In fact, moisture levels below 200 ppm may be needed in order to ensure a reasonable safety margin and, in some cases, moisture levels below 50 ppm are recommended.
Using Infrared Crystal Dryer for PLA
| | |
| --- | --- |
| Processing | Drying and Crystallization in one process step |
| Drying and crystallization time | 20mins, or depends on dried material requirement |
| Final moisture | 30-70ppm 150-200ppm |
| Drying temperature | Depends on dried material requirement |
| Energy consumption | Save about 45-50% energy consumption compared to conventional dehumidifier |
| Excellent rotating properties | will prevent PLA clumping during the processing |
| Easy clean | Only use air compressor to blow |
| Capacity | Can be 80-1000kg/h |
PRODUCT DESCRIPTION

Field of applications
Heating.Heating granules and regrind material prior to further processing (e.g. PVC, PE, PP,…) inter alia to improve the throughput in the extrusion.
Crystallization.Crystallisation of PET (Bottleflakes, granules, flakes), PET masterbatch, co-PET, PBT, PEEK, PLA,PBAT, PPS, etc.
Drying.Drying of plastic granules, and –ground material (e.g. PET, PBT, ABS/PC, HDPE, LCP, PC, PP, PVB, WPC, TPE, TPU)
as well as other free-flowing bulk materials.
Coating.Coating of adhesives (e.g. Hot melt, EVA+lime,…)
High input moisture.Drying processes with high input moisture >1%.
Diverse.Thermal processes for the removal of rest oligomeren and volatile components.
How our IRD Works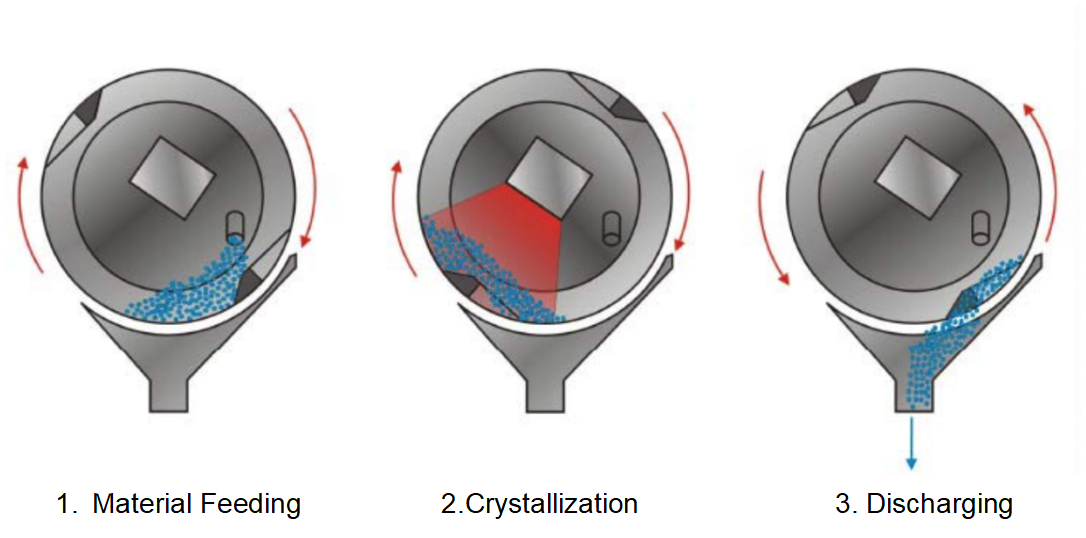 1. Material Feeding
By vacuum dosing feeder to convey the raw material continuously to the rotating drum.
2. Drying and Crystallization
Thermal treatment and mixing. There are the spirals welded into the rotary drum to ensure the well mixture of material and continuous transfer to the outlet.
And the material will also be dried continuously.
3. Discharging
The dried and crystallized material will be discharged after minutes drying by drum rotary. Finally the dried and crystallized material will be conveyed to the next processing.
Advantage of IRD Processing
1

Rotary drum design

To dry the material evenly

The spiral coils design of the drum ensure the good mixture of the raw material to avoid material clumping

2

Retention time

Depends on the speed of Rotary drum

The speed can be adjustable by the property of drying material

3

PLC Controlling system

The material retention time,drum rotating speed

The Infrared lamps performance, drying temperature

The feeding speed of Vacuum feeder

4

Reproducibility

Recipes and process parameters can be stored in the controlling system to ensure opimal and reproducible results

5

In one step

Drying and crystallization in one step

6

High efficiency

Minutes drying and crystallization instead of hours( Compared to conventional dehumidifier and crystallizer)

7

Fast cleaning

Allow for easy and fast cleaning.
Rapid product change-over
Machine Photos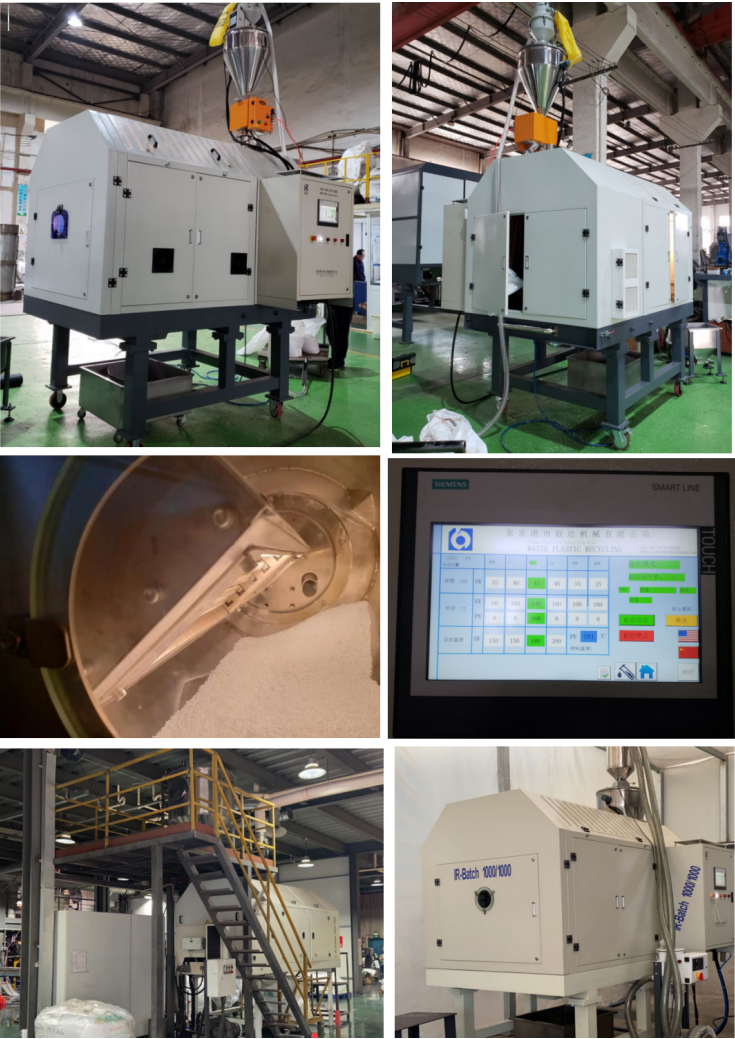 HOW TO ENSURE THE QUALITY!
● In order to ensure the accuracy of each part, we are equipped with a variety of professional processing equipment
and we have accumulated professional processing methods over the past years.
● Each component before assembly needs strictly control by inspecting personnel.
● Each assembly is in charged by a master who has working experience for more than 20 years
●After all the equipment are completed, we will connect all the machines and run the full production line to ensure the stable running in customers' factory

Our Service
1.We will provide testing if the customer comes to visit factory to see the machine.
2.We will provide detail machine technical specification ,electric diagram,installation,operation manual and all the documents which customer needed for clearing customs
and using the machine.
3.We will provide engineers for helping installation and training the workers at customer's site.
4.Spare parts are available when they are needed .Within warranty time,we we will provide spare parts free,and over warranty time,we will provide spare parts with factory price.
5.We will provide technical support and repair service in the whole lifetime .