Drying and crystallization of PET Recycled flake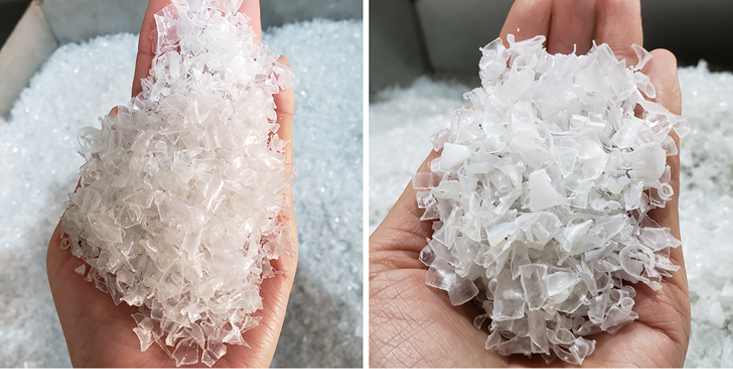 Processing Explanation:
lDry and crystallize of PET Recycled flake to 70ppm
lProcess temperature 180 °C to 220 °C
lDischarging and feed to Extruder feeding hopper
Can cooperate with the machine line:
lPET Extruding pelletizing machine line
lPET Sheet making machine line
lPET Mono filament fiber making machine
lPET Meltblown fabric making machine
lPET Bale strap making machine line
Our IRD ( Infrared Dryer ) will make for you:

lInfrared rotary dryer is designed with sophisticated temperature measurement. The material and exhaust air temperature are continuously monitored by sensors.
If there is any deviations,PLC system will adjust automatically
lThere are flexible 5 zone heating control
lAdopt drum rotation will make sure the constant movement of the raw material to avoid clumping/sticking and dry evenly
lWithin 20mins to get the moisture 150ppm or less ( Depends on customer's requirement)
lTo get the crystallization level at 20%-30% of the pellets without lumping/sticking)
lComprehensive visualization of all process parameters
Our IRD working processing: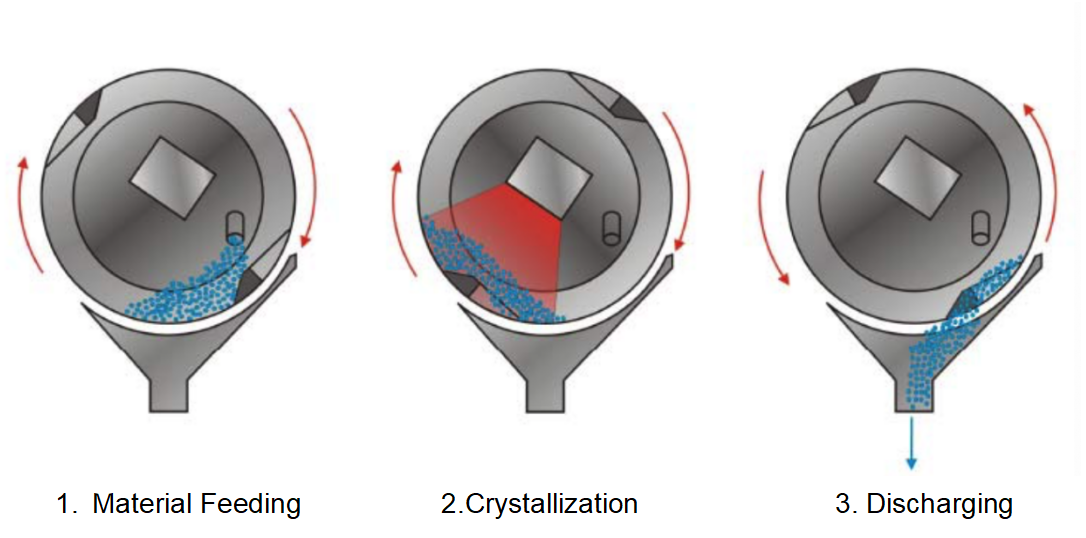 1. Material Feeding
By vacuum dosing feeder to convey the raw material continuously to the rotating drum.
2. Drying and Crystallization
Thermal treatment and mixing. There are the spirals welded into the rotary drum to ensure the well mixture of material and continuous transfer to the outlet.
And the material will also be dried continuously.
3. Discharging
The dried and crystallized material will be discharged after minutes drying by drum rotary. Finally the dried and crystallized material will be conveyed to the next processing.
Our Advantage
| | | |
| --- | --- | --- |
| No | Description | |
| 1 | Low energy consumption | Significantly lower energy consumption compared to conventional processes, through the direct introduction of infrared energy to the product. |
| 2 | Minutes instead of hours | The product remains for only a few minutes in the drying process and is then available for further production steps. |
| 3 | Instantly | The production run can start immediately upon startup. A warm-up phase of the machine is not required. |
| 4 | High efficiency | The energy is immediately brought into the core of the product. |
| 5 | Gently | The material is heated gently from the inside to the outside and not loaded from the outside for hours with heat, and thereby possibly damaged. |
| 6 | Easy cleaning | Good access to all components allows for easy and fast cleaning. Rapid product change-over. |
| 7 | In one step | Crystallization and drying in one step |
| 8 | Increased throughput | Increase of plant throughput by means of reduced load on extruder. |
| 9 | Evenly | Ensures a constant discharge |
Machine photos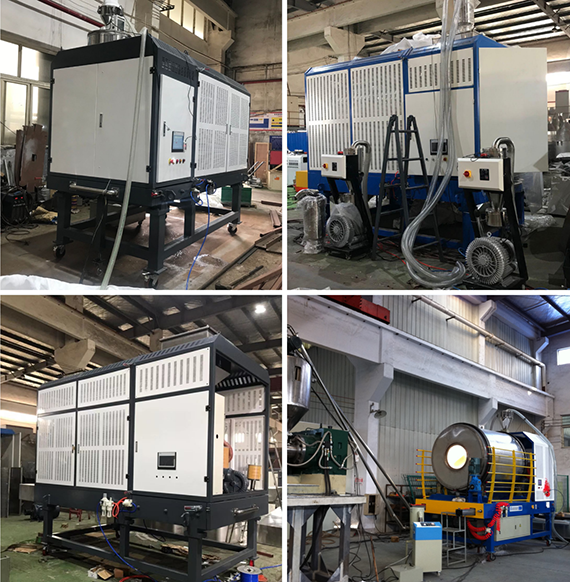 HOW TO ENSURE THE QUALITY!
●In order to ensure the accuracy of each part, we are equipped with a variety of professional processing equipment and we have accumulated professional processing methods over the past years.
●Each component before assembly needs strictly control by inspecting personnel.
●Each assembly is in charged by a master who has working experience for more than 20 years
●After all the equipment are completed, we will connect all the machines and run the full production line to ensure the stable running in customers' factory


Our Service
1.We will provide testing if the customer comes to visit factory to see the machine.
2.We will provide detail machine technical specification ,electric diagram,installation,operation manual and all the documents which customer needed for clearing customs and using the machine.
3.We will provide engineers for helping installation and training the workers at customer's site.
4.Spare parts are available when they are needed .Within warranty time,we we will provide spare parts free,and over warranty time,we will provide spare parts with factory price.
5.We will provide technical support and repair service in the whole lifetime .
Application examples:
lDrying and crystallizing of PET to 50PPM
lDrying and crystallizing of PLA
lDrying of TPU
lDrying and heating of PE pellets to remove volatiles
lCrystallization of masterbatch in small batches
lDrying and crystallizing of PET for pelletizing or sheet extrusion
lDrying and crystallizing of PLA for pelletizing or sheet extrusion
lDrying and crystallizing of PPS Pellets, amorphous Co-Polyester
lDrying, crystallizing and heating of bulk materials
lPET Masterbatch Crystallization
lPP Masterbatch dryer
lCo-PET Crystallization
lPBT Crystallization
lPEEK Crystallization
lPPS Crystallization
lDrying of plastic granules, and PET, PBT, ABS/PC, HDPE, LCP, PC, PP, PVB, WPC, TPE, TPU etc.( free-flowing bulk materials)
lRemoval of rest oligomeren and volatile components